Tropical Fish and Saltwater Fish Information

This web site is dedicated to helping anyone interested in the aquarium fish hobby.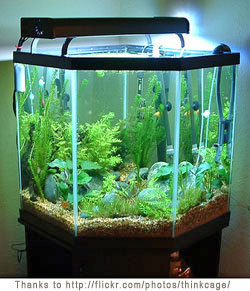 We hope you will find this web site helpful and informative. All the articles written are done by aquarium fish experts and our recommendations are what worked for us in the past. There is more then one right way of doing things so varying perspectives matter.
Get opinions from various tropical fish or saltwater fish sites to see what works best for you. When it comes to keeping a fish tank, trial and error is the best way to do things, not every solution will work equally well for every fish keeper.
Get advice and then see what works best for you. These tropical fish resources were written to hobbyists by hobbyists to help you succeed with your aquarium fish hobby.
Tropical Fish
If you are a beginner interested in
starting an aquarium
, we have helpful tips to get you started. Visit our
fish tank Q's and A's
for answers to common questions. We also have ideas for your first tropical fish to begin on your way with the freshwater aquarium hobby. This is a very important step when setting up a brand new aquarium. Your tropical aquarium success for the first few months depends on which
species of tropical fish
to choose for the fist time. This
tropical fish species guide
is a must read before you go out shopping for your first fish.
You cannot overlook the importance of proper
aquarium filtration,
and we also have a section catered to
aquarium heaters
so you can learn before you buy. Not sure what aquarium filters to use on your new aquarium? There are many styles and designs available, and all filters have the same general purpose - to sustain the life in your aquarium. It is important to chose proper
fish tank filter
for your tank. This article teaches what aquarium filtration does and shows the different styles of aquarium filters to help you choose the best one for your fish tank. Also see this section for
aquarium help
.
Looking for a step-by-step guide to
setting up a freshwater aquarium
geared towards the new aquarium hobbyist? Includes helping you choose the proper freshwater fish species and advice on how to care your pet fish. Helps you to consider and look after all the small details that are so important for the future success and health of your aquatic pets. Don't forget to watch your
water chemistry
! Once your fish tank is up and running, we feature
aquarium maintenance
tips to keep your tropical fish happy and healthy. Learn about
aquarium additives,
they add essential nutrients to keep your freshwater tropical fish healthy.
Read about the more popular and most common species like Oscar fish, Betta fish and Gold fish.

Oscar fish
, one of the most sought after additions to a freshwater aquarium. What is the strange allure of these vivacious creatures? Find out why hobbyists love their Oscar fish and why they are so different from the regular tank dweller. Learn how to care for these interesting creatures and tips on keeping them happy so their personality will shine!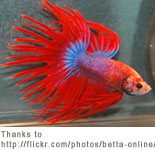 Betta fish
, known for their easy care and beautiful flowing fins. Myths surround the Siamese fighting fish and thankfully, we have them all explained and straightened out the myths about Betta fish, or Siamese fighting fish.
Gold fish
, learn the history which is quite amazing and discover the allure of goldfish. Easy to care for and peaceful to watch with the array of vivid features, they are something out of this world! We have all the fancy gold fish care tips you need.
Koi Fish
are also featured in our pond fish section.
Sometimes your fish tank might get stricken with
tropical fish diseases
, it's inevitable, and part of nature that your fish tank inhabitants will have some type of illness at one time or another, when this happens, check out the tropical fish disease category for some care and prevention tips.
Another common issue faced by tropical fish keepers is
cloudy aquarium water
. If you have cloudy aquarium water, learn why your fish tank is cloudy and how to fix it. Cloudy water in your fish tank is usually the first sign of trouble. Follow the steps to fix the problem, so you don't lose any of your aquarium inhabitants.
Another issue often faced by aquarium fish keepers is
green aquarium water
. Find out how to combat these common fish tank problems and enjoy your sparkling crystal clear, tropical aquarium again!
Saltwater Fish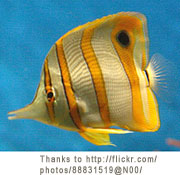 An entirely different aquarium hobby keeping experience, the saltwater fish tank, is for the adventurous and more experienced aquarium hobbyist. If you are interested in
starting the saltwater aquarium
, we have beginner's tips and advice to care for your saltwater fish. Lean how to set up a marine aquarium, proper techniques and marine equipment that are required for your success.
Once you have set up the fish tank, the next step is figuring out what kind of
saltwater aquarium filter
is best to use. There are numerous styles, but we have mentioned the best few that we have had success with in the past. Another important addition to caring for your tropical fish is
saltwater aquarium lighting
, saltwater fish have different requirements than freshwater fish.
Once you have set up your marine aquarium, the next step is to determine what
saltwater fish species
you want to place in your tank. You have to be choosy because many marine fish species are not compatible with each other.
Now that you have your marine fish tank set up, and you enjoy the creatures of the ocean, it's time to consider
saltwater aquarium maintenance.
We also have an informative article on
marine algae
, which most saltwater fish keepers will encounter at one point of time or another.
If you choose a tropical fish tank or try a saltwater fish tank, this web site has the essential advice you need. Remember that opinions vary, and you may hear different ways of caring for your fish and maintaining your aquarium so use our advice along with the advice of other pet professionals and you are sure to achieve success!